At Newton's Road we are passionate about connecting local youth to the wide variety of exciting STEM-related careers across Northwest Michigan and beyond. STEM careers are jobs that encompass one or more of the areas of science, technology, engineering, and mathematics in their day-to-day routine and responsibilities.
While some STEM careers may be obvious such as nursing, engineering, and software programming, there are others that you may not have even heard of! Which is why it is important to explore career interests and opportunities from a young age.
The Career Investigator for Northwest Michigan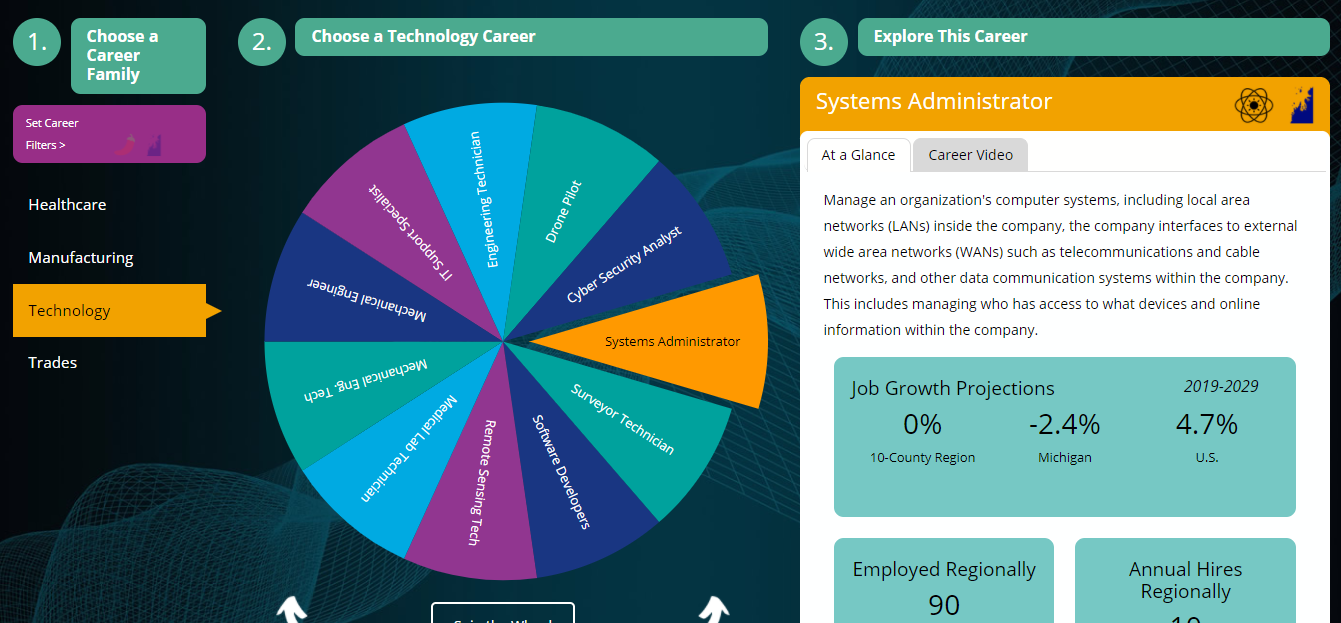 The Career Investigator for Northwest Michigan enables students to explore STEM-related careers that are in high demand in our region. It features local programs that are nationally recognized and results in great-paying jobs—often before students graduate high school. It is Northwest Michigan Works' tool of choice for their youth and adult career exploration services.
The goal is to increase the number of regional high school graduates hired to local STEM-related Hot Jobs (jobs that are in high demand and have a path to a family-sustaining salary) across industries by creating a single hub connecting accurate, inspiring career information from regional businesses and educators to students and their parents.
Don't see your employer or STEM-related career? It's easy to get involved from our Employers page!
You can also find STEM career related events and news on the Career Investigator website.
Do you work with middle or high school students? Navigate through the Career Adventure to explore various STEM careers and local employers with our Career Investigator. It is easy to add a link to these resources in Xello or other national platforms used in your school to connect youth to their local careers.
Looking to match business volunteers to classroom career visit opportunities? Visit MiSTEM for more information on having a guest speaker in your classroom.
Check Out STEM Career Videos on YouTube
Looking for a day in the life of a STEM career? View our Newton's Road episodes with Northwest Michigan employers and education/training providers to learn about exciting STEM-related careers in our region and pathways to achieve them.
See all of the episodes on our YouTube page.
Enroll in a Local Career Preparation Program
Northwest Education Services Career Tech
Northwest Education Services (North Ed) Career Tech is a career and technical education school that offers training in 23 career fields utilizing the latest technology and state-of-the-art equipment. North Ed Career Tech and regional schools share great pride in preparing students for immediate job placement, post-secondary education, or military service. Learn more about the benefits of career and technical education HERE. The Local Advantage Pathways to careers in our Career Investigator for Northwest Michigan often include Career Tech options. To learn more, check out their programs page.
Sci-Ma-Tech
The Traverse City Area Public Schools' SCI-MA-TECH program enriches the quality of education by inspiring and challenging students through a rigorous individualized and integrated curriculum. SCI-MA-TECH students participate in exciting and innovative explorations designed to fully prepare them for success in post-secondary education and beyond. Learn more here.
Early College
Early College is a program for high school students within the Grand Traverse region and Wexford-Missaukee ISD to earn college credits by completing course work at their home high schools or Career-Tech Center and Northwestern Michigan College's campus. Early College provides students with a defined pathway to graduate high school while earning up to two years of college credit or an associate degree at Northwestern Michigan College. This program saves time and money!
Wexford-Missaukee Early College
Dual Enrollment
You don't have to wait until high school graduation to get started on your college career. Through our dual enrollment program, you can enroll in Northwestern Michigan College courses while still attending high school for little to no cost. Learn more here.