Sponsor
Corporate sponsorships and foundation grants are critical to Newton's Road achieving our strategic mission.
We thank the many businesses and community leaders who have committed to sponsoring our highly effective small team as we help develop a strong STEM ecosystem that will enable our youth and entire region to thrive into the future.
The following sponsorship opportunities reflect our focus over the next three years (2021 - 2024) on being on the ground in each community to ensure all youth have opportunities to STEM UP.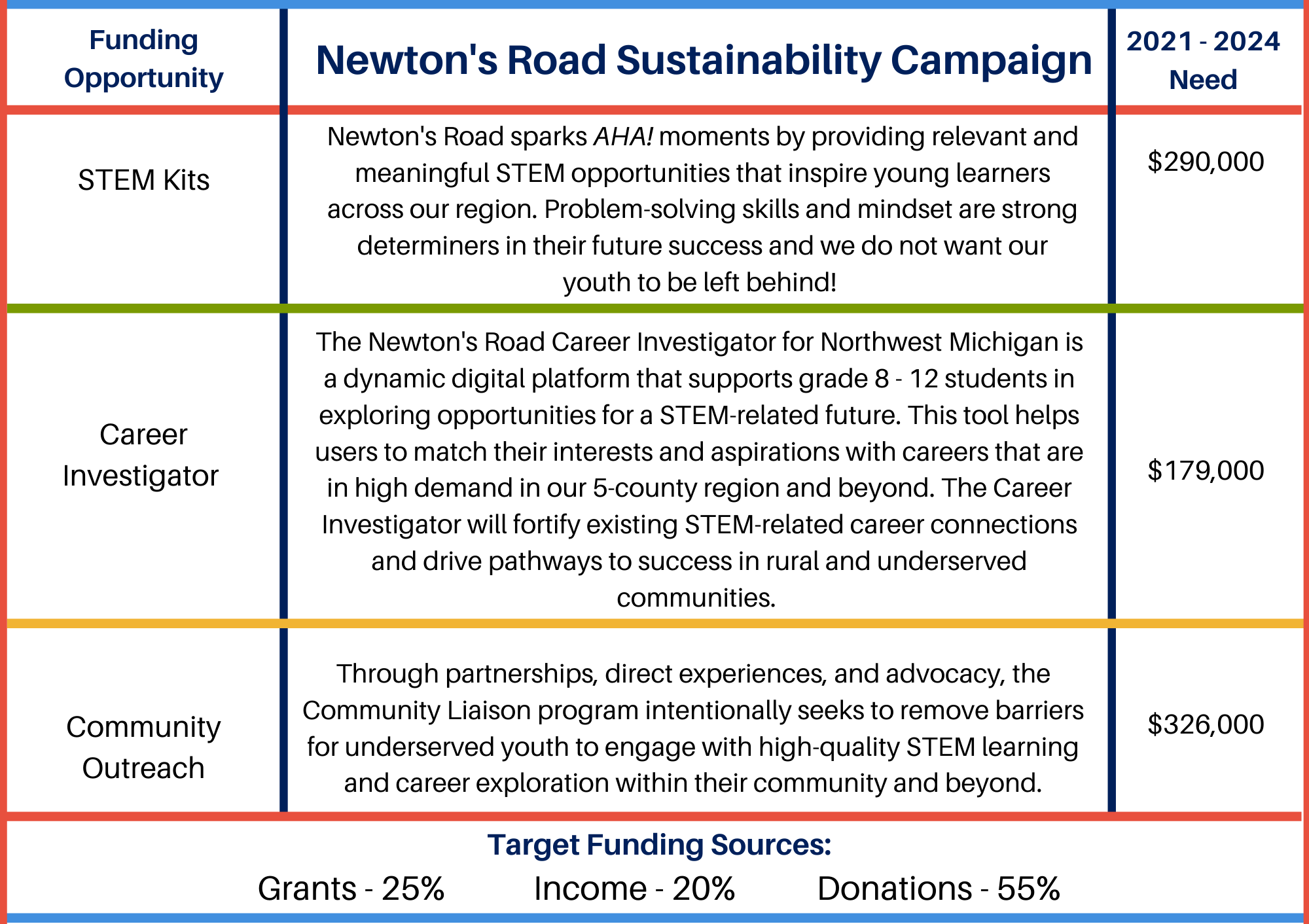 Learn More About Our Funding Opportunities

STEM Kits
With the help of Sponsorships, grants and individual donors, we now have STEM Kits in 20 Regional Libraries and more than 13 community organizations such as The Rock of Kingsley, Michael's Place, Habitat for Humanity, and more!
Check out what our regional librarians have to say about the importance of STEM Kits in the community.
Career Investigator
Check out the full Career Investigator experience at www.nwmicareers.org
Business Sponsors making donations of $3,000 and above are recognized on our website, the Career Investigator, press releases, and during group presentations per their guidance, including if they wish to donate anonymously.
Community Outreach
Our Community Liaison Initiative will reach approximately 20 communities in our 5-county Northwest Michigan region--roughly aligned to the 20 library districts. In this way, we can more intentionally establish the above goals by meeting families and youth where they are and working with families and leaders to identify needs and ways to meet them.
Check out our interactive map showing our current Community Liaisons (and more STEM resources).

Please contact us if you are interested in learning more about becoming a sponsor of Newton's Road!