What is a STEM Career?
STEM careers are jobs that encompass one or more of the areas of science, technology, engineering, and mathematics in their day-to-day routine and responsibilities. There are many obvious jobs that fall into these categories such as nursing, mechanical engineering, and software programming. But there are other new and evolving opportunities that you or your student may not have even heard of. Which is why it is important to explore your career interest and opportunities from a young age. There are a lot of careers out there that could fall into a STEM category or require STEM skills.
How do I know if a STEM career is right for me?
At Newton's Road we are passionate about connecting the area youth of Northwest Michigan to opportunities to explore careers ideas, connect students with those actively working in STEM fields, and help develop a pipeline of talent for companies in our area.
Here are a few ways Newton's Road can help you determine if a STEM career is right for you or your student:
Explore Local STEM Jobs With The Career Investigator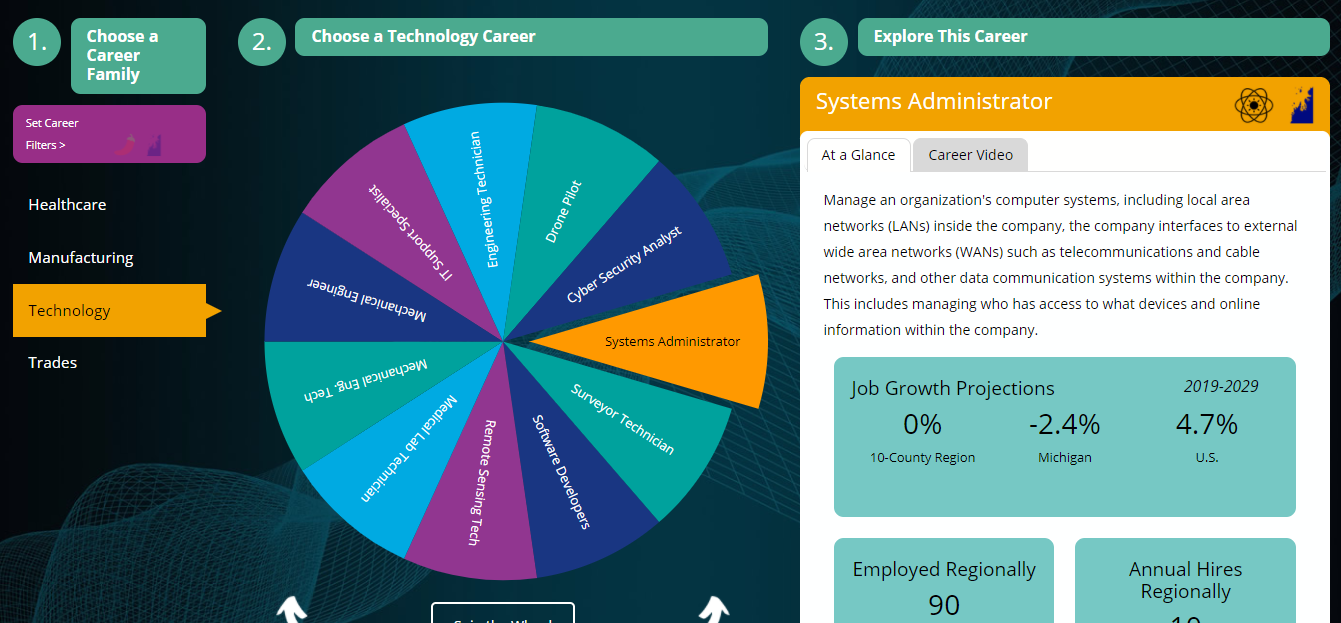 The Career Investigator for Northwest Michigan helps students explore STEM-related careers that are in high demand in our region, as well as nationally recognized local programs that result in great-paying jobs--often before students graduate.
The goal is to increase the number of regional high school graduates hired to local STEM-related Hot Jobs (jobs that are in high demand and have a path to a family-sustaining salary) across industries by creating a single hub connecting accurate, inspiring career information from regional businesses and educators to students and their parents.
Employers: Check out our STEM in Business resources page or email stemvista@newtonsroad.org to link your business to the careers you hire!
Check Out STEM Career Videos on YouTube
Looking for a-day-in-the-life for a STEM career? View our recorded LIVE episodes with Northwest Michigan employers and education/training providers to learn about exciting STEM-related careers in our region and a pathway to achieve them. The careers range from Astronaut to Respiratory Therapist to Carpenter!
See all of the episodes on our YouTube page
Enroll in a Program at Your Local Career-Tech Center
The Traverse Bay Area Career-Tech Center, located in Traverse City, serves high school juniors and seniors who reside and attend school in Antrim, Benzie, Grand Traverse, Kalkaska, or Leelanau county. With over 20 technical programs offered at no cost to high school students in the qualifying areas, students gain a head start to enter college or directly into the workforce.
Their STEM-related opportunities are often the first step in the Local Advantage Pathways to careers in our Career Investigator for Northwest Michigan, including:
Agriscience/Natural Resources
Allied Health
Auto Body Repair
Automotive Technology
Construction Trades
Drafting and Design Online
Electrical Occupations
Information Technology
Manufacturing Technology
Mechatronics
Power Equipment Technology
Precision Machine Technology
Web and Game Programming
Welding and Fabrication Program
To learn more about all of their opportunities, check out the programs page on the Career-Tech Center website.