Example STEM Kits
Snap Circuits Jr. - age 8+ Build 100+ electronics circuit projects
Blocks & Marbles - age 5+ Create 100s of unique constructions
KEVA Contraptions 200 planks - ages 7+ Hands-on experience with balance, leverage, geometry and physics
Qwirkle - ages 6+ Many family games across ages using 36 colorful wooden tiles to build tactical & strategic thinking skills
Ozobot Bit - ages 6+ Simple to advanced coding using patterns made with colored markers
Zoomy 2.0 - ages 4+ Egg-shaped microscope magnifies anything 54x on a computer screen
Botley - ages 5+ Learn to code with screen-free play
Little Bits Coding Kit - ages 8+ Magnetic "Bits" snap together to turn ideas into inventions
Snapino - ages 12+ Introduction to the open source Arduino hardware- software coding environment
Rock, Mineral and Fossil Collection - ages 3+ Find, sort & identify over 250 colorful specimens using identification book and sheet
Makey Makey - ages 8+ Connect everyday objects like bananas to your computer! Mac/PC/Chromebook
Squishy Human Body - ages 8+ Discover how the human body works with realistic model
Q*bitz Game - ages 8+ Stimulates spatial reasoning & memory skills, 2-4 players
Q*bitz Jr. - ages 3-8 Pattern matching, spatial reasoning; 1-4 players
Arckit Mini Modern - ages 10+ Build your own contemporary designer home
Staxis - ages 6+ Fun way to learn planning, calculated risk-taking, hand-to-eye coordination & spacial awareness.
Pattern Play - ages 3+ Introduce patterns and spatial & geometric concepts
Dive into Shapes - ages 3+ Gain a deeper understanding of geometry basics using colorful shape building set
Square Up - age 6+ 2-player visual thinking game that strengthens logic, focus and problem-solving skills
Robot Turtles - age 4+ Board game that teaches basic programming principles
Tumble Trax Marble Run - ages 5+ Children create daredevil designs with magnetic foam tracks and send plastic marbles through their course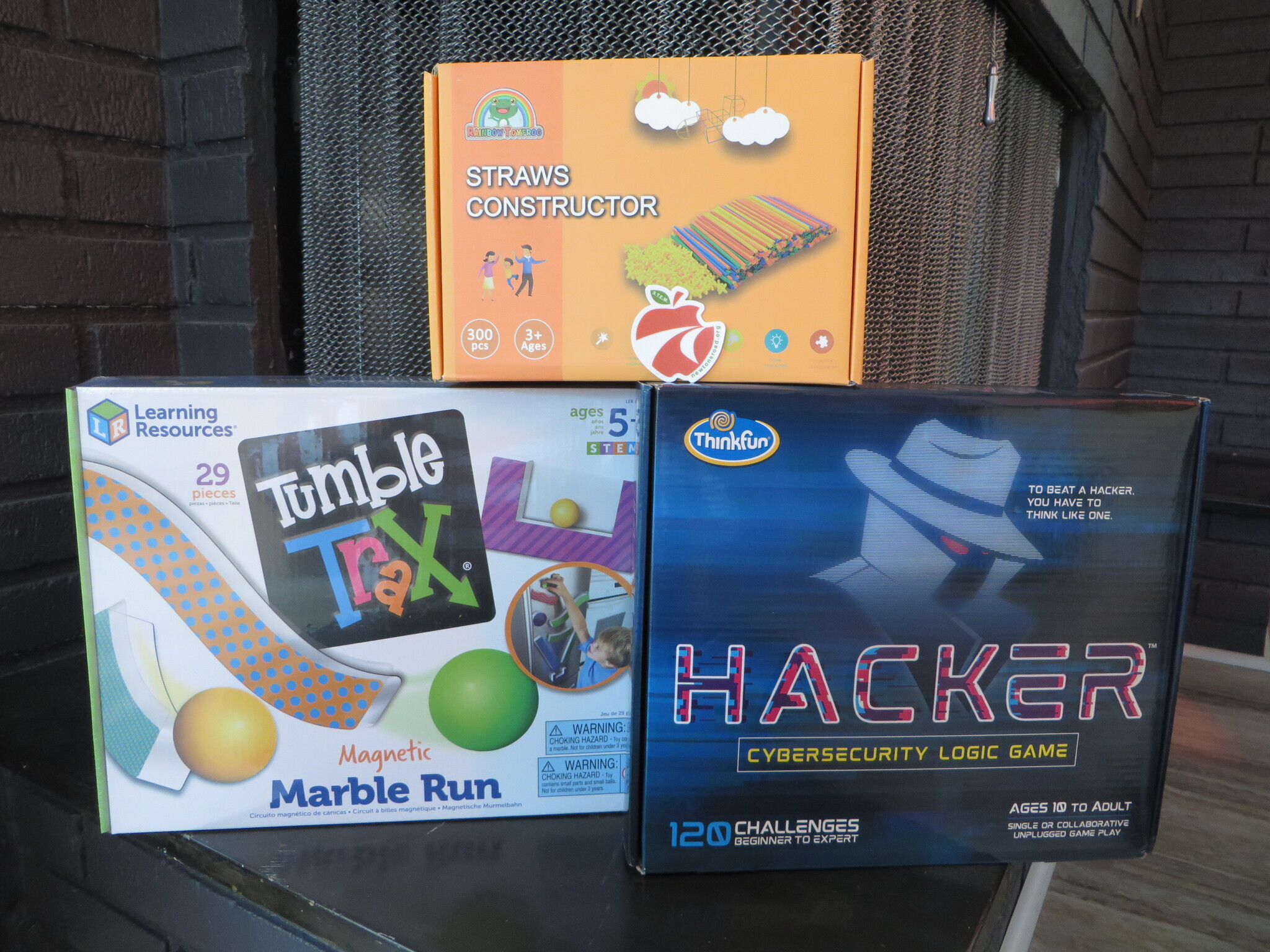 More STEM activities!
For more STEM Activities for elementary and middle schoolers, check out these websites!