Why is STEM at home important?
Igniting a passion for STEM learning today will help to develop thinkers that are ready for tomorrow! Newton's Road partners with parents, mentors, educators, and businesses across Northwest Lower Michigan to spark curiosity, connect every student to meaningful STEM experiences, and support STEM-ready futures.
STEM learning opportunities engage children in science, technology, engineering, and math in ways that encourage learning through hands-on problem solving, creativity, inquiry skills, critical thinking, and collaboration. The very skills and qualities that organizations of all kinds crave today!
Newton's Road serves as a guide to ensure parents and educators have high-quality choices for young minds to explore in our community and beyond. Check out the resources our team has compiled for you and your family to enjoy exploring STEM together!
In-Person Resources
STEM Finder
Our STEM Finder is a searchable hub with local and online STEM learning and career exploration opportunities. It covers the 5-county area and includes free and paid resources to keep your kids engaged with STEM.
Events Calendar
Our Events calendar includes both in-person and online events in the 5-county area. As a member of the STEAM/Maker Alliance, we include a wide range of events that cover Science, Technology, Engineering, Arts, and Math.
STEM Community Map
We've put together a custom Google Map that showcases STEM support, organizations, and STEM Kit locations in our community. This map includes our partners, community liaisons, and more! If you have a STEM-focused organization that you feel belongs on our map, contact us and let us know!
STEM Kits
STEM Kits give all families, youth leaders, and teachers free access to quality play-based activities designed to ignite the natural curiosity of children and grow their creative problem-solving abilities. Each kit contains a unique activity with a primary focus area that requires using a combination of STEM skills.
There are kits available for all ages and abilities from pre-K to young adult.
Newton's Road and our partner the Traverse Area District Library (TADL) worked to ensure that all 21 libraries in our region have STEM Kits to lend (at no charge) to all library patrons. We are now excited to see them being shared between libraries and their local schools and programs!
The STEM Kits for the libraries were graciously funded by the LSTA/IMLS Grant (through the Library of Michigan), The Les and Anne Biederman Foundation, Inc., the Traverse Bay Sunrise Rotary Club and the Elk Rapids Rotary Club.
Staff Picks for Online STEM Resources
Our staff found quality science and STEM lessons that you can do at home anytime, so you don't have to do the research--just dive in!
Newton's Road Northwest YouTube
Our YouTube page has STEM at Home videos with Northwest Michigan organizations that show interactive experiments and projects.
TGR Foundation
Through their award-winning STEM curricula, college-access programs, digital platforms and educator professional development, the TGR Foundation offers underrepresented students in grades 6th through 12th, the resources and support needed to thrive in school and beyond.
STEAM Powered Family
STEAM Powered Family started in July 2015 as a way for the founder, Shelley, to continue with her passion for writing, science and children's mental health. Shelley's site offers creative STEAM activities and resources for students in elementary and middle school. Shelley says, "We have some of the most innovative, creative and outstanding people in the world connecting through this site and it has been such a privilege to witness the dedication to our future generations".
Learn in Color
Learn in Color is an online educational platform for elementary-aged students, where parents and teachers can find creative and engaging learning materials to teach children topics in history, math, science, geography, and language arts.
Go Science Kids
Originally created to promote young girls to experiment and get involved with science, Go Science Kids is a website that offers various science activities broken down by age and activity! Go Science Kids offers activities for ages ranging from 1-2-year-olds to 12 -13-year-olds.
Be the first to know about new STEM Events and Activities
Subscribe to our monthly Newsletter for current happenings and follow us on Facebook, Instagram, and LinkedIn for quick connections to events and ideas.
Snap Circuits Jr. - age 8+ Build 100+ electronics circuit projects
Blocks & Marbles - age 5+ Create 100s of unique constructions
KEVA Contraptions 200 planks - ages 7+ Hands-on experience with balance, leverage, geometry and physics
Qwirkle - ages 6+ Many family games across ages using 36 colorful wooden tiles to build tactical & strategic thinking skills
Ozobot Bit - ages 6+ Simple to advanced coding using patterns made with colored markers
Zoomy 2.0 - ages 4+ Egg-shaped microscope magnifies anything 54x on a computer screen
Botley - ages 5+ Learn to code with screen-free play
Little Bits Coding Kit - ages 8+ Magnetic "Bits" snap together to turn ideas into inventions
Snapino - ages 12+ Introduction to the open source Arduino hardware- software coding environment
Rock, Mineral and Fossil Collection - ages 3+ Find, sort & identify over 250 colorful specimens using identification book and sheet
Makey Makey - ages 8+ Connect everyday objects like bananas to your computer! Mac/PC/Chromebook
Squishy Human Body - ages 8+ Discover how the human body works with realistic model
Q*bitz Game - ages 8+ Stimulates spatial reasoning & memory skills, 2-4 players
Q*bitz Jr. - ages 3-8 Pattern matching, spatial reasoning; 1-4 players
Arckit Mini Modern - ages 10+ Build your own contemporary designer home
Staxis - ages 6+ Fun way to learn planning, calculated risk-taking, hand-to-eye coordination & spacial awareness.
Pattern Play - ages 3+ Introduce patterns and spatial & geometric concepts
Dive into Shapes - ages 3+ Gain a deeper understanding of geometry basics using colorful shape building set
Square Up - age 6+ 2-player visual thinking game that strengthens logic, focus and problem-solving skills
Robot Turtles - age 4+ Board game that teaches basic programming principles
Tumble Trax Marble Run - ages 5+ Children create daredevil designs with magnetic foam tracks and send plastic marbles through their course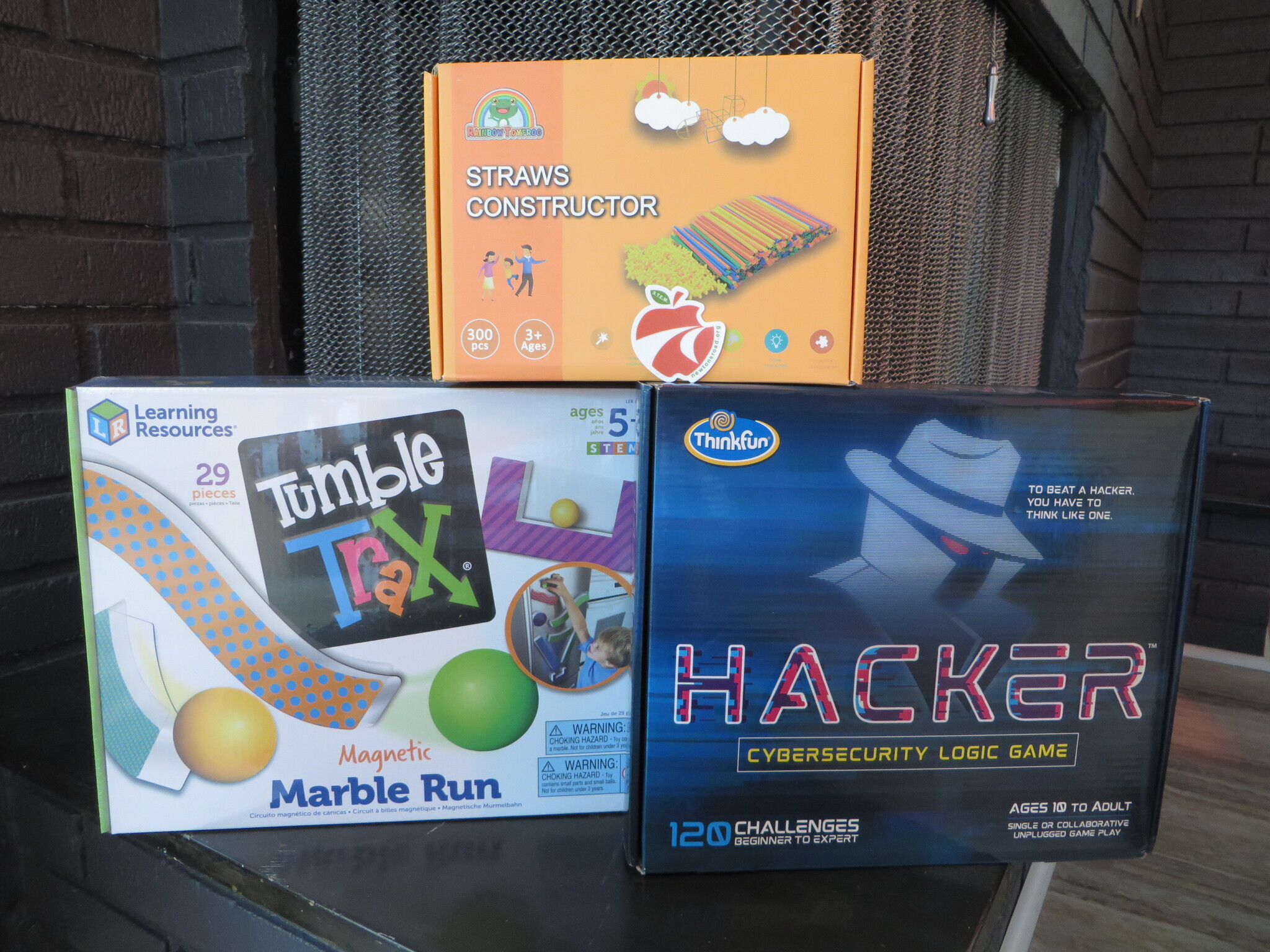 For more STEM Activities for elementary and middle schoolers, check out these websites!