Why Engage?
We are working to develop a Robust Talent Pipeline to help your Business Grow!
According to STEM in the Great Lakes Bay Region:
83% of HR professionals reported difficulty hiring for a STEM job within the last year.
STEM skills are required for a wide range of in-demand occupations.
The gap is evident in trades, middle-skilled, and highly skilled STEM positions.
Developing a talent pipeline can reduce recruiting and training time, thus increasing profit.
Newton's Road is actively working with our region's businesses, schools, economic and workforce development organizations to more meaningfully inform our youth and their families about the stable, long-term career opportunities available for young adults armed STEM-related skills in our region.
Right now, we are hard at work creating a regionally-relevant online Career Investigation Platform especially for our target audience of parents and students. This Platform will illustrate career ladders for multiple high-demand employment opportunities, including the variety of pathways available locally to achieve desired long-term career outcomes.
For example, this Phlebotomist and Lab Science career ladder was created for our Career Exploring Club members after a visit to Munson: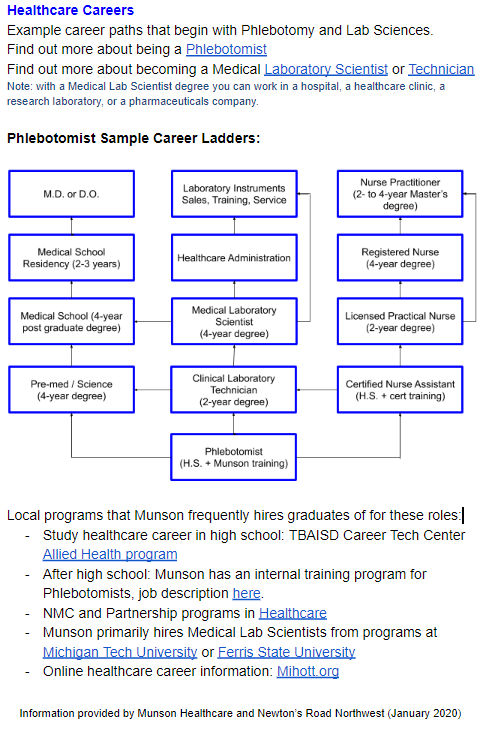 In addition, we actively support and build on existing Career Exploration programs such as:
Sponsor a Career Exploring Club that provides hands-on experiences and career information events hosted by local employers and post-secondary programs (for middle and high school students).
Help plan and sponsor local student focused events such as MiCareerQuest Northwest and Manufacturing Day.
Match business volunteers to classroom career visit opportunities, which is critical to success as shown in the pyramid below: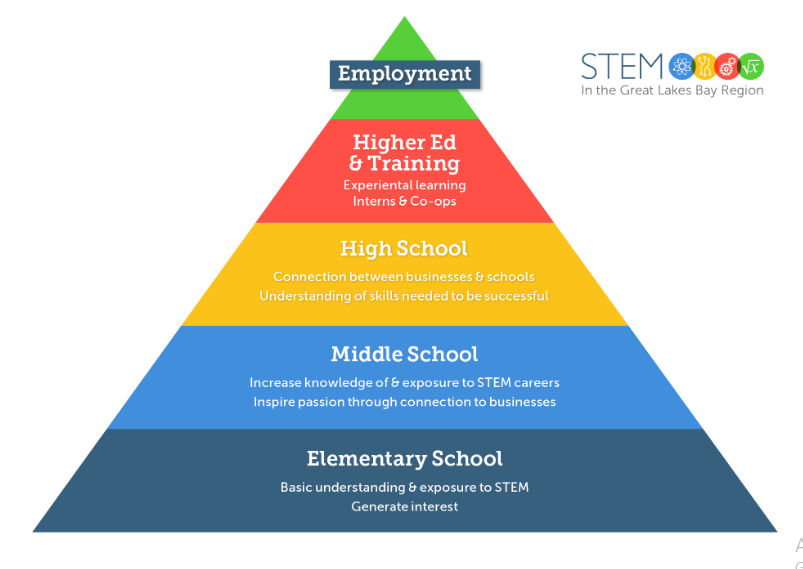 Interested? Please consider the next steps: